Merlene Ottey back on track
Nuoro, Italy - July 12
Merlene Ottey ran 11.42 this evening in a small competition in Nuoro, Sardinia, Italy. The weather conditions were miserable with a cold 13 degrees Celsius.
Here's what Merlene said afteh th race:
"

I was looking forward to run in good conditions but unfortunately the weather was simply terrible. However, for me the most important thing was to run and feel the excitement of competition. I am pleased to be back on the track and confident that I will improve in every race and be at the top of my form for the Olympics."
As we've said before, Merlene Ottey will compete next at the Jamaican National Championships in Kingston from July 20-22.
Since we're registering more and more visits from around the World, we thought it was about time to offer an English version of our Web Site. Visits from abroad registered so far ended in about zero seconds which we find normal due to a language problem. Here is our trial page to help you understand it.

We do appreciate your opinion so please, E-mail us and don't hesitate to tell us your opinion and place any questions concerning Athletics in Slovenia.

We do have some great athletes capable of wining Olympic medals, like Brigita Bukovec (National Champion & record holder, silver medallist at 100 m hurdles in Atlanta '96), Brigita Langerholc (National record holder at 400 & 800 m), Britta Bilač (National & European Champion in High Jump), Alenka Bikar (National Champion & record holder in 100 & 200 m), Eufemija Štorga (National record holder in Javelin), Anja Valant (National champion & record holder and at the same time one of the best women Triple Jumpers in the World these year with 14,69 m), Matija Šestak (best white performer in 400 m at WC - Sevilla '99) and Gregor Cankar (National champion & record holder in long jump - PB 8,40 m)... Their photos are all presented below (Gif Animation) while we're preparing their personal home pages. They're to be ready within a month or so. Meanwhile (while we manage to translate the rest of our pages) you're welcome to our pages in Slovene - if you have any questions, please fill in the form and you'll get all your answers. In case you'd like to know more about our country, you're kindly invited to my pages (see links at the bottom).

We also host two great Athletes preparing themselves for the Sydney Olympics in our capital Ljubljana. Jamaican Merlene Ottey, one of the greatest female athletes of all times is getting ready for her last Olympiad under the guidance of Srdjan Djordjevic, while Joe Greene, American long jumper (bronze medallist at Barcelona & Atlanta Games) believes the experience of our ex-champion Borut Bilač (spouse & coach of our champion Britta and also a coach of our triple jumper Anja Valant) can help him improve his performance in Sydney.

As you may have noticed, links to the left are translated but they lead to pages in Slovene, so please, be patient - translations are in progress...

But besides our track & field pages we've prepared information on some very special and extreme achievements where Slovenians take part or play the main role. Some of the events of the kind are about to happen in the near future and well try to cover them. Lets just mention some of them:

| | | |
| --- | --- | --- |
| Stane Klemenc | Davo Karničar | Dušan Mravlje |
| | | |

our extreme skier Davo Karnicar plans to be the first one to ski from the "roof" of the planet - Mount Everest. The event is planned to happen in August

one of our great mountaineers and photographers, Stane Klemenc is on his way to The North Pole

marathoner Dusan Mravlje promises to win extreme 'Hi-Tec Badwater' marathon through The dead Valley deserts in the USA

our alpine climbers Pavle Kozjek and Marjan Kovac are on their way to South American mountains where they intend to climb on Jirishance

also one of our best alpine climbers Silvo Karo with his friend Mauro Bole - Bubu from Triest - Italy is trying to climb over some extremely difficult peaks in the Valley of Paron in S. America

All the events mentioned above are covered live (so far in Slovene only) on The Internet at: http://www.extremekanal.com/ and will be covered through our English pages as well.
We're proudly presenting our champions that have already met their Olympic entry standards.

All our athletes whose photos you've seen at the right animation are presented at a special page, where we very shortly intend to publish their own stories as well

Do visit us again!
Soonest possible we intend to publish all the relevant data of our National Team Members that have already met the Olympic entry standards. Many of them will tell you their own stories. Visit us again!
Brigita se končno vrača na stezo
Ljubljana, July 12.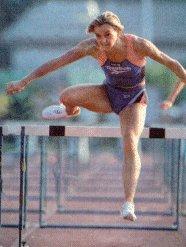 It's been announced today that our champion in 100 m hurdles, Brigita Bukovec (second at the Games in Atlanta 1996) is getting back to the track after she's been operated a month ago. Her come back is timed for the meeting in Triest, Italy in 14 days.
After that Brigita will try to "catch the train" for the Olympics in Sydney (she has to reconfirm her entry standard). We all hope she'll be able to do it soonest possible - if not at the mentioned meeting.
Dva naša v svetovnem vrhu
Ljubljana, 11. julij
According to the latest IAAF's list of the best athletes, published a few days ago, there are two our athletes at the "Top 20 list":
- Alenka Bikar, our record holder & national champion in 100 and 200 m (her coach is Jure Kastelic) is ranked No. 12 in the world
- Gregor Cankar, improved his ratings after having had some series of jumps over 8 m and is ranked 6.th in the world (his coach is Srdjan Djordjevic - recently more spoken of as Merlene Ottey's coach)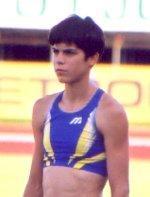 We should, however not forget our triple-jump champion Anja Valant (at the photo to the right) who recently had a series of jumps over 14 m - and that puts her in the third position in the world this year. We also have to mention Roman Kejzar, who still holds 50.th position in marathon this year in the world, as well as some other athletes (girls foremost) that are getting better and better in the pre-Olympic season.
We remain in the first league in Europe
Bydgoszcz, Poland - July 9
Both our National Teams remain in the first league of the European Cup competition - while our men fought tough to remain in the group, our female team took fourth place as expected and predicted by our experts.
The greatest success on the first day belongs to our long distance runner champion Helena Javornik (photo to the left). She again improved one of her own national records, this time at 1.500 m. Her time 4:06.77
| | | |
| --- | --- | --- |
| | | |
| Alenka Bikar | Anja Valant | Jolanda Ceplak |
means an improvement over her last year's achievement by 0.57 seconds. She also improved a 19 y. o. National record in 3.000 m set by Breda Pergar. Helena's new record is 8:50:71.

All in all our athletes set 6 new national records within last two days (besides Helena's 2 records here are the other 4):
- Primoz Kozmus, in a hammer throw - 73,34 m
- Brigita Langerholc (photo above right) in a 400 m race - it means an improvement of her own record set earlier this year in Austin, USA by 0.7 seconds
- women relay 4 x 100 m: Maja Nose, Mojca Vauce, Sasa Prokofjev and Alenka Bikar improved previous record by 0.15 seconds - new record: 45.10.
- women relay 4 x 400 m: (Meta Macus, Jolanda Ceplak, Sasa Prokofjev and Brigita Langerholc) ran 3:35.52, which is almost 3 seconds faster thena the previous record.
Merlene's first races to come
Ljubljana, Zürich, July 7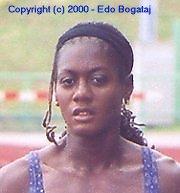 According to the message received late tonight from her manager D. P. Zimemrmann, on Wednesday night, July 12 Merlene is going to have her first race after a ban by the IAAf has been withdrawn. she is going to test her shape on a small meeting in Sardena, Italy.
Be with us on that night for we're arranging to keep you updated - our LIVE CHAT might well be organized immediately after her race.
We've got first three medals
Helsinki, July 8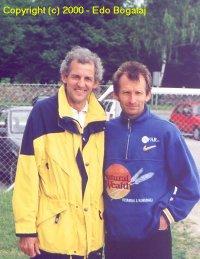 Our veterans team has already began to gather medals at European Veterans Championship in Finland (as they cannot get rid of the habit to be coming back with a bunch of them every time). They are not yet all together in Finland and they've already won two medals.
Marjan Krempl from Poljcane (age group: 45 - 50) won a 10.000 m race (his time: 33:02.90) and was thus decorated with the golden medal, while Marija Sterlekar (age group: 35 do 40) with a throw of 13,61 m in shot put won one of her many medals, this time a bronze one.
The photo above shows two great friends and great athletes, both long distance runners Milan Kotnik )in the yellow jacket) and Marjan Krempl. While Marjan already has his golden medal, we dre to bet Milan will also get one at least - he's used to winning, not only at veterans races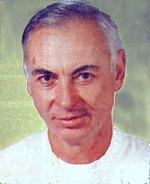 although he turned 50. His race, probably at 21 or 42 km is expected within next few days.
The third medal, this time it's a silver one goes to Branko Vivod, our ex-champion and record holder in high jump. With 1,75 m in his second attempt he was equal to Persuanen from Finland, but the host managed to go over that mark in his first attempt.
Will our teams keep their positions?
Ljubljana, July 7

Our National Team (male & female) is in Poland where they are going to try to keep their positions in the first league of the competition, although many of our best athletes had to stay at home - most of them due to illness or injuries. Regardless of that fact we do hope they will manage to keep their positions.
Amongst first athletes of the highest rank, our long jump champion Gregor Cankar suffers from a leg muscle and ankle injury, so our captain, discus thrower Igor Primc will have to do his best to maintain the position for the men team, while our sprinter Alenka Bikar (below right) and middle distance runner Brigita Langerholc (above left), are not expected to have any tough competition. They are both in a very good shape and we anticipate their wins. the female team is expected to keep their position in the first league much easier than men.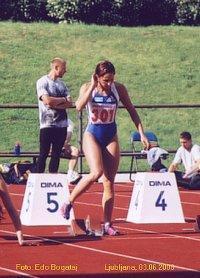 Our men team is facing the following field: Austria, Bulgaria, Netherlands, Croatia, Poland, Rumania and Ukraine. Two of these teams will have to leave the first league.
Our girls, however a re facing the following field: Beloruse, Austria, Bulgaria, Croatia, Netherlands, Ireland and Poljand.
Merlene Ottey's Press Conference
Ljubljana, July 5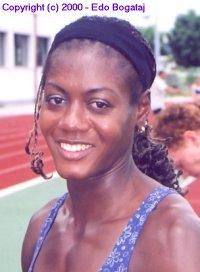 As per today afternoon you can watch Merlene's statements regarding her nandrolone case and the last decision of the IAAF arbitrary panel. Merlene's Conference held in Ljubljana yesterday has been recorded and you can see & hear what she, her manager and her coach had to say. All you need is go to her page and use your Real Player.
Keep coming back as we're preparing transcription of Merlene' coach's statements since they were recorded in Slovene only.
According to the very latest agreement Merlene should log in for the LIVE CHAT session from her first race next week.
Merlene is acquitted and goes to Sydney!
Ljubljana, Zürich, July 3. 09:12 PM (GMT + 01:00)
Merlene Ottey's manager, Mr. Daniel P. Zimmermann has just announced the great news on Merlene's case: Merlene Ottey has been found NOT GUILTY and can continue to perform and go to The Games in Sydney as well.
The genuine message from Mr. Zimmerman is at our pages devoted to Merlene and the Press Conference that is to be held on Wednesday, July 5 at 4 PM at Hotel UNION in Ljubljana. Her Press Conference will be recorded and transmitted via our server worldwide at approximately 7 PM the very same day (Real Player). Later on, most likely the next day we're organizing our LIVE CHAT as we have promised.
CONGRATULATIONS MERLENE - 7. th MEDAL TO BE WON!
Our men relay team first in Europe
Pariz, 2. julij
Our men Relay Team TK Portovald CP from Novo mesto, with Borut Veber from Sevnica and Boštjan Buc has won the European Realay Championship in Paris. In the 4 x 1.500 m relay they were simply the best.

The team members: Aleš Tomic, Marko Gorenc, Bostjan Buc in Borut Veber won the European title running 15:48. The second place belongs to Denmark, while the host's relay, France surprisingly came to the third position.

Our team, however had another goal in mind before leaving for the Championship. They were hoping to run good enough to improve our national record that is nearly 34 years old. They were quite short to fulfill this goal, so our record remains 15:29.7, a record that was set on September 25 in 1966 in Trbovlje. At that time our relay team members were: Kovač, Zuntar, Cervan in Simo Vazic - all athletes of one of our best Athletic Clubs of all times: Kladivar from Celje.

Details of this unexpected success will follow when the team returns from Paris. Congratulations go to the team an also to their coach Borut Retelj, who managed to get them prepared despite Jernej Kastelec's illness (he had to be pulled out of the team the very last moment).

News forwarded from Paris by: Borut Retelj

Aleš Tomic
Borut Veber
Marko Gorenc
Boštjan Buč

National Championship

APS Cup Finals
Gaz de France:June 23, Paris

European Cup - 1.st league - Poland
AK Olimpija

AD Kladivar

AK Postojna

AD Nova Aurora

AK Rudar

AK Ptuj

AK Triglav

AKZreče

AD Železniki

AK Lenart

AK Lendava

AK Domžale

KAK Ravne

AD Kronos