We're proudly presenting our champions that have already met their Olympic entry standards.

All our athletes whose photos you've seen at the right animation are presented at a special page, where we very shortly intend to publish their own stories as well

Do visit us again!
Soonest possible we intend to publish all the relevant data of our National Team Members that have already met the Olympic entry standards. Many of them will tell you their own stories. Visit us again & read info below!
Brigita is going to run in Sydney
Ljubljana, July 27
After yesterday's successful come back at the international meeting in Trieste, Italy, Brigita came out with her final decision today. After having discussed and reconsidered her situation with her coach Jure Kastelic, Brigita decided to go to Sydney Olympics.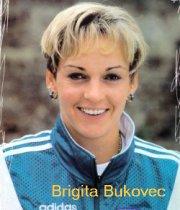 Her decision has been well thought over over the night and today's morning and doesn't mean that she is definitely going to compete at the Olympics. One should be aware that Brigita is very responsible person and she said a few hours ago she will only compete if by the end of August she feels confident enough to run at least 12.80 seconds.
Her coach however, is already confident enough in Brigita and has no doubt whatsoever that she'll soon be capable of reconfirming her Olympic entry standard (which is 13.10 seconds), if not earlier than by August 21.
Brigita started her intensive training session today at Ljubljana stadium and will continue to work in Ljubljana for another 3 days. After that, on Monday she travels to Koper, where she and her good friend, our fastest female athlete, national champion and record holder at 100 m and 200 m, Alenka Bikar (also coached by Jure Kastelic) will remain for some10 days.
Brigita's today's decision besides a fundamental change of her training also means that she'll have to test her capabilities at an appropriate competition. She plans to run at some 4 races in August and by the end of the next month she also plans to run at some GP meetings.
Brigita tomorrow as a "rabbit" in Oslo
Ljubljana, July 27

Brigita Langerholc left for Oslo, Norway today, early afternoon. She's been invited to play a role of a "rabbit" to the world's best female runners at 1.500 m at the Golden League meeting tomorrow. An exceptional praise to our best 400 and 800 m runner - national champion at middle distances who proved in her recent races at home she could pull well over a 400 m as well as over 800 m. And it had to be noticed by the Oslo meet organizers.
Brigita has also been invited to play the same role in Stockholm's meeting on Tuesday, August 1.
Finally: Brigita's come back
Trst, July 26
It was yesterday late afternoon when I met Brigita Bukovec and her coach Jure Kastelic at Ljubljana Athletic stadium and both were quite relaxed and confident about today's Brigita's come back to the track. They didn't seem to be completely sure in a successful come back after two years absence, but brigita told me (while those snapshots were taken): "If I do it, OK, if not this wouldn't mean the end of the world has come!" That kind of approach to her today's return to the track and competitions after so many injuries and an operation she had in April this year, must have been the main reason for success today in Trieste. Brigita's attendance at Sydney Olympics now all of a sudden becomes a reality. Her coach Kastelic seemed to be as optimistic as she was - he told me he expects Brigita to be capable of running some 12.80 in about a month and a half (exactly the time at her disposal in case she decides to go to Sydney).

A bit worried, of course, ...

Brigita Bukovec's last appearance to the track was "ages ago" - her last attendance to any track competition happened in Moscow two years ago - after that an era of injuries had come and caused Brigita's absence even from the normal training routine. Finally in April this year she had to undergo an operation and many had cut Brigita out of our National Team for Sydney, and there were many who thought her career has ended forever! While celebrating her 30.th birthday on May 21. This year she was not confident in her come-back herself.

This was an awful era when nobody seemed to be able to help her, but Brigita most certainly knows how important it was for her to have her friends and her coach at her side.

And finally today it had happened what we were all eagerly waiting for - she made a very successful come-back as her coach has just told me during our phone conversation after the race. "Her result (she ran 13.49) is nothing worth mentioning", he said, but she ran technically an excellent race! the most important fact however, is that she felt no pain - nor during the race neither after it. "She failed to be enough aggressive between hurdles but this is normal to me due to her lack of strength", added Kastelic.


who said I'm not going to ...

It' all in here !?
Both Brigita and her coach seemed to be satisfied with the race itself and seemed to be confident enough to make a positive decision regarding Brigita's attendance in Sydney.
Brigita's final decision where to continue her training process and to compete at Sydney Olympics is expected tonight or early tomorrow morning and we will inform you as soon as we hear from Brigita and her coach.
As i understood Mr. Kastelic the decision is completely up to the athlete herself, but since he is confident Brigita could prepare herself to be capable of running some 12.80 at the time of her Olympic races, we expect Brigita to agree to that.
Jamaica's Olympic Track&Field Team
JAMAICA'S OLYMPIC TRACK & FIELD
TEAM NAMED
FOLLOWING on the successful Track & Field Championships, held at the National Stadium last weekend, the Jamaica Amateur Athletic Association (JAAA) late this evening advised the Jamaica Olympic Association (JOA) of the selection of 48 athletes for the 2000 Olympic Games. The Team is to be ratified by the JOA at a meeting scheduled for Tuesday, July 24, 2000.
The Team, is comprised of twenty-six (26) women and twenty-two (22) men is as follows:
FEMALE: Peta-Gaye Dowdie; Beverly McDonald; Tanya Lawrence; Merlene Ottey; Veronica Campbell; Astia Walker; Merlene Frazer; Juliet Campbell; Lorraine Graham; Sandie Richards; Andrea Thomas; Michelle Burgher; Celena Clarke; Charmaine Howell; Madrea Hyman; Delloreen Ennis-London; Michelle Freeman; Brigitte Foster; Deon Hemmings; Catherine Scott; Patrina Allen; Karen Beautle; Elva Goulbourne; Lacena Golding; Keisha Spencer and Olivia McKoy.
MALE: Lindel Frater; Christopher Williams; Patrick Jarrett; Llewlyn Bredwood; Dwight Thomas; Donovan Powell; Omar Brown; Ricardo Williams; Gregory Haughton; Danny McFarlane; Davian Clarke; Michael Blackwood; Sanjay Ayre;Michael McDonald; Brandon Simpson; Marvin Watts; Robert Foster; Kemel Thompson; Dinsdale Morgan; Ian Weakly; James Beckford and Claston Bernard.
Completing the Track & Field contingent are: Mr Winston Ulett (Manager); Assistant Managers Mrs Marie Tavares and Mr Lincoln Eatmon. Head Coach Mr Glen Mills assisted by Messrs Dennis Johnson; Michael Clarke; Raymond Graham; Stephen Francis and Fitz Coleman. The Medical Team is headed by Dr Aggrey Irons assisted by Dr Glenton Smith; Physiotherapists Mrs Marcia Swyer Forbes and Mrs Karen Rattray.
All members of the 2000 Olympic Track & Field Team are invited to a formal reception, being hosted by the Jamaica Olympic Association, at the Le Meridian Jamaica Pegasus Hotel, Tuesday, July 25, at 5:30p.m.
Ottey misses out automatic Olympics spot
Merlene Ottey misses out on automatic 100 metres Olympics spot
KINGSTON, Jamaica, July 22, (Reuters)

Merlene Ottey missed out on an automatic spot to run the 100 meters at the Sydney Olympics when she could only finish fourth in the Jamaica trials final on Friday night.
But she gets a second chance of making the Olympic squad on Saturday when she contests the 200 meters and she could also still make it as part of the relay team.
Ottey, 40, needing a top-three finish to guarantee selection for the 100 meters at the Games, ran 11.27 seconds in the final with Peta-Gaye Dowdie retaining her title in 11.19.
It was Ottey's slowest effort of the three appearances she made at the meet. She had clocked 11.09 in the first round Thursday and 11.15 in the semifinal earlier on Friday.
Dowdie, the U.S. Collegiate 200-metre champion, survived a tight finish, to beat 1999 world championship 200-metre silver medallist Bev McDonald (11.20) and Tanya Lawrence (11.21).
Ottey finished in 11:27 seconds - behind winner Peta-Gaye Dowdie, Beverley McDonald and Tanya Lawrence.
Ottey and Dowdie were slow at the start but Dowdie, a student at Louisiana State University, accelerated in mid-stretch to catch and beat McDonald and Lawrence and retain her national title in 11:19 seconds.
Thursday night, at preliminary trials, Ottey beat all those youngsters in 11.09 seconds.
Still the 40-year-old Ottey, is expected to make Jamaica's Olympic squad, but only in the 4x100 meter relay team.
The four runners are expected to form Jamaica's 4x100 relay team at the Australian Olympics in September.
Ottey, winner of seven Olympic medals and 14 world championship medals including two gold, has been at every summer Games since Moscow in 1980.
She said on Friday her enforced absence from athletics as a result of the drug-taking allegation had been like a ``death sentence'' but she remained confident she would get in shape in time for the Games.
Ottey said: "In about six weeks I can get to running under 11 seconds ... I've done it in the past. I have the experience and I have the confidence.''
Ottey was banned after testing positive for the controversial anabolic steroid nandrolone but the ban was lifted on July 3 by an International Amateur Athletic Federation panel.
Merlene Ottey in semifinals
Kingston, Jamaica - July 21
Merlene Ottey, trying to qualify for her sixth Olympic team, advanced to the semifinals of 100 meters Thursday at Jamaica's Olympic trials. She won her heat race in 11.09 seconds.
Ottey, who has kept a low profile since arriving in Jamaica five days ago, had a slow start but made up ground on runner-up Tanya Lawrence then eased up at the line for the win.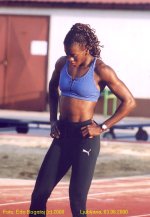 "With 30 meters to go I was in a daze, but I got going and it was easy after that,'' she said and than added:
"It feels great to run here at home in Jamaica where I have been running since the 1970's. I am still a bit rusty and uncomfortable to run with others but very happy with the improvement over last weeks 11.42 sec in Italy. I came here to qualify for the Olympic team so it is too early to celebrate. I am looking forward to two more good and very competitive races tomorrow evening."
The semifinal and final are scheduled for tomorrow July 21 at 5 pm and 7 pm respectively.
Merlene needs to finish in the top three of Friday's 100 m final to qualify for the event at the Sydney Olympics.
Cankar sixth in Salamanca
Salamanca, 20. julij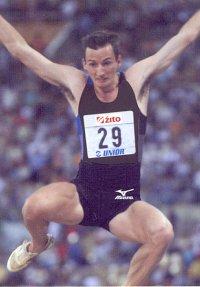 Gregor Cankar performed today at Salamanca meeting in Spain and placed sixth with a jump of 7,78 m. Today's winner is James Beckford from Jamaica - his best today was 8,34 m. World record holder, world record holder, Cuban Ivan Pedroso finished fourth today - he also had no jump over 8 m.
This meeting was Gregor's latest official meeting before leaving to our coast where he will be preparing himself (along with some other athletes coached by Srdjan Djordjevic) for the Olympic Games.
Brigita, Matija & Merlene chasing Sydney
Ravne na Koroškem, Kingston - Jamajka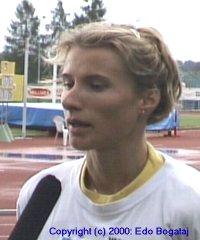 Brigita Langerholc (left), our national champion and record holder at 400 m and a record holder at 800 m as well as Matija Sestak (below right), our national champion and record holder at 400 m, will tonight try to catch their tickets for Sydney - Brigita in a race at 800 m, while Matija is going to try to reconfirm his entry standard at 400 m.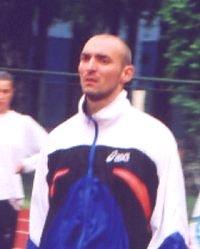 You can expect reports on their races late tonight (around 10;00 PM local time).
The same task is in front of our friend, Jamaican Merlene Ottey who will in her hometown Kingston at Jamaica try to confirm her entry standard at 100 m. Tonight around 6:00 PM local time she's having the heats while her final race is expected tomorrow. If she confirms her entry standard, which is 11.06 seconds for a 100 m - females, she travels to Sydney, although there has already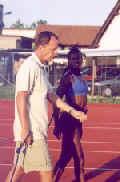 been a hint from her national association's president Mr. Adrian Wallace that Merlene is going to Sydney anyway - their only condition is that Merlene appears at the trials tonight.
On the photo to the left you can see Merlene Ottey about a month ago, photographed at Ljubljana stadium while preparing under guidance of her coach Srdjan Djordjevic for her trials as well as for the Games in Sydney.
National Championshis in Kranj
Kranj, July 16

National championships ended with no big surprises although some were expected - the only exception was men's 100 m race. Otherwise all last year's champions who performed in the past two days, confirmed their national titles.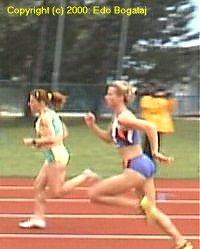 The foremost exceptional result, however is Brigita Langerholc's new national record at 400 m - she ran 52.59, and this is her third consecutive race under 53 seconds this year. Her race at 400 m (as well as her Sunday's race at 800 m) confirms she's in great shape. Although her performance at 800 m on Sunday was not good enough to ensure her Olympic entry standard reconfirmed. She did well her first 400 m (under 57 seconds as she had planned) and if there was a good "rabbit" in front to help her, she would have done it. (Picture above shows the start of the race with Helena Javornik and Brigita Langerholc in front).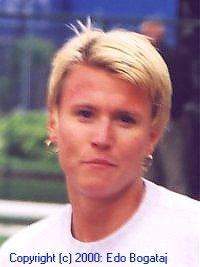 It's a pity that none of the officials of our National Athletic Association (AZS) could help her and her friend (and a rival, too) to find a suitable 400m runner to pull them towards entry standard.
Our new national champion Jolanda Ceplak (to the left) was stronger in the second half of the race and she overran Brigita in the last 15 meters of the race that ended with Jolanda's 2:02.00.
The only real and very pleasant surprise at the same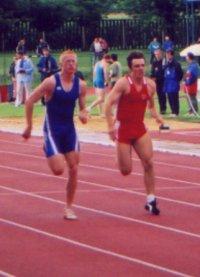 time were our best sprinters - in a 100 m race they all proved to be in a great shape. The most pleasant and unexpected surprise of all, however, was young Matic Osovnikar's (to the right - in a blue dress and below left) performance, who ran 10.34 which is second best in Slovenia of all times. The only one who was not surprised by this exceptional achievement was his coach Albert Soba, who predicted Matic's great performance for the season. Other sprinter, members of our 4 x 100 m national relay team also performed very well - another three of them ran under 10.50. Not surprisingly then, that they promised a new national record in a near future - before the Games, as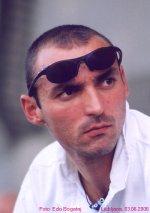 they say.
Very promising, however, was Matija Sestak's (to the left) Saturday's performance at 400 m, since he's still recovering from several illnesses and had lost well over a month of his training. The best white runner at 400 m at Sevilla last year is getting better and better and at this event he was also only 0.26 short to reconfirm his Olympic entry standard. He managed however, to run much better than both his colleagues from the national 4 x 400 m relay team, Bostjan Horvat in Jozeta Vrtacič.
Brigita tomorrow under 1:59.00?
Kranj, 15. julij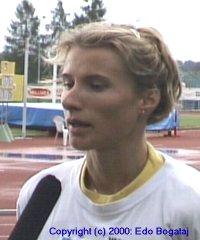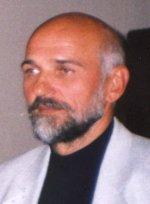 Two very pleasing surprises mark the first day of our National Championships in Kranj - although the weather conditions were not allowing any better results - let's all hope tomorrow it gets better.
The only new national record was set by the host club's (Triglav - Kranj) member Brigita Langerholc (photo to the left) who managed to improve her recently set record mark in 400 m by 0.27 seconds. her new mark is now 52.59! Both she and her coach Dobrivoje Vuckovic (upper right) were sincerely happy about her latest achievement. Today's success might well be a good announcement of what we can expect of her tomorrow,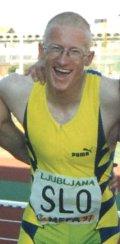 when she'll be chasing her qualifying entry standard for Sydney in 800 m. If she manages to run under 1:59.00 she will have her entry standard and a new national record. She is the first Slovene female athlete to run 800 m under 2 minutes (exactly one year ago) - and my prediction is, that tomorrow afternoon she's going to be the first to run well under 1:59.00 (with a little bit luck - if she could find a good "rabbit" - she might even go under 1:58.00). A bit risky prediction though (she also tried to avoid it today), but as weather conditions should be in her favor tomorrow, she could have done it!
The greatest surprise of the day, however is Matic Osovnikar's (above left) excellent performance in men's 100 m. Matic Osovnikar had surprisingly beaten our champion and an absolute favorite Urban Acman and at the same time he became second fastest Slovenian ever. His time: 10.34!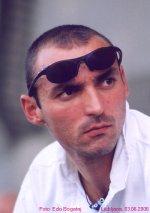 Our champion and record holder in 400 m, Matija Šestak, who is still recovering from several illnesses and some minor injuries, also ran a very impressing 46.31 - having bad weather with slight rain in mind, this is an excellent achievement as well.
In other events there were no surprises at all. Our new champions are (most of them are former champions as well):
WOMEN:
Alenka Bikar in 100 m, Anja Valant in triple jump, Helena Javornik in 1.500 m, Natasa Erjavec in discus throw, Katka Jankovic in 100 m hurdles and Veronika Zupanc in 5.000 m
MEN:
Joze Petkovsek in 1.500 m, Damjan Zlatnar in 110 m hurdles, Gregor Cankar in long jump, M. Vodovnik in shot put and Robi Tersek in javelin throw and ZAK-MASS relay team 4 x 100 m.
You can see all the results here
Since we're registering more and more visits from around the World, we thought it was about time to offer an English version of our Web Site. Visits from abroad registered so far ended in about zero seconds which we find normal due to a language problem. Here is our trial page to help you understand it.

We do appreciate your opinion so please, E-mail us and don't hesitate to tell us your opinion and place any questions concerning Athletics in Slovenia.

We do have some great athletes capable of wining Olympic medals, like Brigita Bukovec (National Champion & record holder, silver medallist at 100 m hurdles in Atlanta '96), Brigita Langerholc (National record holder at 400 & 800 m), Britta Bilač (National & European Champion in High Jump), Alenka Bikar (National Champion & record holder in 100 & 200 m), Eufemija Štorga (National record holder in Javelin), Anja Valant (National champion & record holder and at the same time one of the best women Triple Jumpers in the World these year with 14,69 m), Matija Šestak (best white performer in 400 m at WC - Sevilla '99) and Gregor Cankar (National champion & record holder in long jump - PB 8,40 m)... Their photos are all presented below (Gif Animation) while we're preparing their personal home pages. They're to be ready within a month or so. Meanwhile (while we manage to translate the rest of our pages) you're welcome to our pages in Slovene - if you have any questions, please fill in the form and you'll get all your answers. In case you'd like to know more about our country, you're kindly invited to my pages (see links at the bottom).

We also host two great Athletes preparing themselves for the Sydney Olympics in our capital Ljubljana. Jamaican Merlene Ottey, one of the greatest female athletes of all times is getting ready for her last Olympiad under the guidance of Srdjan Djordjevic, while Joe Greene, American long jumper (bronze medallist at Barcelona & Atlanta Games) believes the experience of our ex-champion Borut Bilač (spouse & coach of our champion Britta and also a coach of our triple jumper Anja Valant) can help him improve his performance in Sydney.

As you may have noticed, links to the left are translated but they lead to pages in Slovene, so please, be patient - translations are in progress...

But besides our track & field pages we've prepared information on some very special and extreme achievements where Slovenians take part or play the main role. Some of the events of the kind are about to happen in the near future and well try to cover them. Lets just mention some of them:

| | | |
| --- | --- | --- |
| Stane Klemenc | Davo Karničar | Dušan Mravlje |
| | | |

our extreme skier Davo Karnicar plans to be the first one to ski from the "roof" of the planet - Mount Everest. The event is planned to happen in August

one of our great mountaineers and photographers, Stane Klemenc is on his way to The North Pole

marathoner Dusan Mravlje promises to win extreme 'Hi-Tec Badwater' marathon through The dead Valley deserts in the USA

our alpine climbers Pavle Kozjek and Marjan Kovac are on their way to South American mountains where they intend to climb on Jirishance

also one of our best alpine climbers Silvo Karo with his friend Mauro Bole - Bubu from Triest - Italy is trying to climb over some extremely difficult peaks in the Valley of Paron in S. America

All the events mentioned above are covered live (so far in Slovene only) on The Internet at: http://www.extremekanal.com/ and will be covered through our English pages as well.

"Siki" International Memorial in Ljubljana

Brigita Bukovec finally on track tomorrow

National Championship

APS Cup Finals
Gaz de France:June 23, Paris

European Cup - 1.st league - Poland
AK Olimpija

AD Kladivar

AK Postojna

AD Nova Aurora

AK Rudar

AK Ptuj

AK Triglav

AKZreče

AD Železniki

AK Lenart

AK Lendava

AK Domžale

KAK Ravne

AD Kronos