TV prenosi

SLO results
Poglejte VIDEO posnetek tiskovne konference

Pridružite se LIVE CHAT-u z Merlene Ottey

Watch her Press Conference VIDEO

Join our LIVE CHAT with Merlene Ottey
Soonest possible we intend to publish all the relevant data of our National Team Members that have already met the Olympic entry standards. Many of them will tell you their own stories. Visit us again & read info below!
Primoz Kozmus set new national record again
Ljubljana, August 5
Our national record holder in hammer throw, young Primoz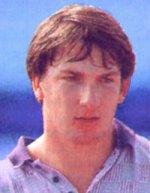 Kozmus improved his national record for the second time within 5 days.
On August 1, in Zagreb, Craoatia he improved his previous record set only a fortnight ago in Poland, and moved it to a new mark at 74,85 m. But he felt he could do it even better.
And he was right - today at a meeting in Hungary he did it. His new record mark is now at 76,84 m, which means that he also met his Olympic entry standard.
When a week ago he said he could be throwing the hammer up to some 77 m, there were few who believed him.
Merlene's schedule of competition
Zürich, Ljubljana, August 4
According to latest information received yesterday from her manager Mr. Zimmermann, we can expect the newest schedule of Merlene's competitions to be published within few days.
Our National Track & Field Team for Sydney
Ljubljana, August 4
The Presidnecy of our National Athletic Federation confirmed the list of 18 athletes that will represent Slovenia at Sydney Olympics:
Alenka Bikar - 100 in 200 m

Helena Javornik - 1.500 in 5.000 m

Anja Valant - triple jump

Eufemija Storga - javelin

Roman Kejzar - marathon

Gregor Cankar - long jump

men's relay 4 x 100 m (candidates are: Bostjan Fridrih, Matic Sustersic, Urban Acman, Matic Osovnikar, Tilen Gartner in Rok Predanic)

men's relay 4 x 400 m (kandidati: Matija Sestak, Bostjan Horvat, Sergej Salamun in Joze Vrtacic)

women's relay 4 x 400 m (Brigita Langerholc, Jolanda Ceplak, Meta Macus in Sasa Prokofjev)

Brigita Langerholc - 800 m

Matija Sestak - 400 m

Bostjan Horvat - 200 m

Igor Primc - discus

Jolanda Ceplak - 800 m

Saša Prokofjev - 100 m

Primoz Kozmus - hammer
Of course, there is also Brigita Bukovec as our only medal defender form Atlanta 1996 and she is expected to be given a special treatment, though she also has to confirm her Olympic entry standard (13.10) for her discipline - 100 m hurdles. Her own statement is well known already and she herself will decide whther to perform in Sydney or not.
Final decisions on our National Team are expected on August 21 - meanwhile all the athletes, mentioned above have enough time to prepare and to reconfirm their standards.
Brigita is going to run in Sydney
Ljubljana, July 27
After yesterday's successful come back at the international meeting in Trieste, Italy, Brigita came out with her final decision today. After having discussed and reconsidered her situation with her coach Jure Kastelic, Brigita decided to go to Sydney Olympics.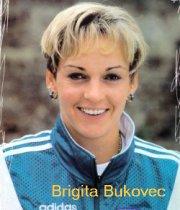 Her decision has been well thought over over the night and today's morning and doesn't mean that she is definitely going to compete at the Olympics. One should be aware that Brigita is very responsible person and she said a few hours ago she will only compete if by the end of August she feels confident enough to run at least 12.80 seconds.
Her coach however, is already confident enough in Brigita and has no doubt whatsoever that she'll soon be capable of reconfirming her Olympic entry standard (which is 13.10 seconds), if not earlier than by August 21.
Brigita started her intensive training session today at Ljubljana stadium and will continue to work in Ljubljana for another 3 days. After that, on Monday she travels to Koper, where she and her good friend, our fastest female athlete, national champion and record holder at 100 m and 200 m, Alenka Bikar (also coached by Jure Kastelic) will remain for some 10 days.
Brigita's today's decision besides a fundamental change of her training also means that she'll have to test her capabilities at an appropriate competition. She plans to run at some 4 races in August and by the end of the next month she also plans to run at some GP meetings.
Brigita tomorrow as a "rabbit" in Oslo
Ljubljana, July 27

Brigita Langerholc left for Oslo, Norway today, early afternoon. She's been invited to play a role of a "rabbit" to the world's best female runners at 1.500 m at the Golden League meeting tomorrow. An exceptional praise to our best 400 and 800 m runner - national champion at middle distances who proved in her recent races at home she could pull well over a 400 m as well as over 800 m. And it had to be noticed by the Oslo meet organizers.
Brigita has also been invited to play the same role in Stockholm's meeting on Tuesday, August 1.
Finally: Brigita's come back
Trst, July 26
It was yesterday late afternoon when I met Brigita Bukovec and her coach Jure Kastelic at Ljubljana Athletic stadium and both were quite relaxed and confident about today's Brigita's come back to the track. They didn't seem to be completely sure in a successful come back after two years absence, but brigita told me (while those snapshots were taken): "If I do it, OK, if not this wouldn't mean the end of the world has come!" That kind of approach to her today's return to the track and competitions after so many injuries and an operation she had in April this year, must have been the main reason for success today in Trieste. Brigita's attendance at Sydney Olympics now all of a sudden becomes a reality. Her coach Kastelic seemed to be as optimistic as she was - he told me he expects Brigita to be capable of running some 12.80 in about a month and a half (exactly the time at her disposal in case she decides to go to Sydney).

A bit worried, of course, ...

Brigita Bukovec's last appearance to the track was "ages ago" - her last attendance to any track competition happened in Moscow two years ago - after that an era of injuries had come and caused Brigita's absence even from the normal training routine. Finally in April this year she had to undergo an operation and many had cut Brigita out of our National Team for Sydney, and there were many who thought her career has ended forever! While celebrating her 30.th birthday on May 21. This year she was not confident in her come-back herself.

This was an awful era when nobody seemed to be able to help her, but Brigita most certainly knows how important it was for her to have her friends and her coach at her side.

And finally today it had happened what we were all eagerly waiting for - she made a very successful come-back as her coach has just told me during our phone conversation after the race. "Her result (she ran 13.49) is nothing worth mentioning", he said, but she ran technically an excellent race! the most important fact however, is that she felt no pain - nor during the race neither after it. "She failed to be enough aggressive between hurdles but this is normal to me due to her lack of strength", added Kastelic.


who said I'm not going to ...

It' all in here !?
Both Brigita and her coach seemed to be satisfied with the race itself and seemed to be confident enough to make a positive decision regarding Brigita's attendance in Sydney.
Brigita's final decision where to continue her training process and to compete at Sydney Olympics is expected tonight or early tomorrow morning and we will inform you as soon as we hear from Brigita and her coach.
As i understood Mr. Kastelic the decision is completely up to the athlete herself, but since he is confident Brigita could prepare herself to be capable of running some 12.80 at the time of her Olympic races, we expect Brigita to agree to that.
Ottey misses out automatic Olympics spot
Merlene Ottey misses out on automatic 100 metres Olympics spot
KINGSTON, Jamaica, July 22, (Reuters)

Merlene Ottey missed out on an automatic spot to run the 100 meters at the Sydney Olympics when she could only finish fourth in the Jamaica trials final on Friday night.
But she gets a second chance of making the Olympic squad on Saturday when she contests the 200 meters and she could also still make it as part of the relay team.
Ottey, 40, needing a top-three finish to guarantee selection for the 100 meters at the Games, ran 11.27 seconds in the final with Peta-Gaye Dowdie retaining her title in 11.19.
It was Ottey's slowest effort of the three appearances she made at the meet. She had clocked 11.09 in the first round Thursday and 11.15 in the semifinal earlier on Friday.
Dowdie, the U.S. Collegiate 200-metre champion, survived a tight finish, to beat 1999 world championship 200-metre silver medallist Bev McDonald (11.20) and Tanya Lawrence (11.21).
Ottey finished in 11:27 seconds - behind winner Peta-Gaye Dowdie, Beverley McDonald and Tanya Lawrence.
Ottey and Dowdie were slow at the start but Dowdie, a student at Louisiana State University, accelerated in mid-stretch to catch and beat McDonald and Lawrence and retain her national title in 11:19 seconds.
Thursday night, at preliminary trials, Ottey beat all those youngsters in 11.09 seconds.
Still the 40-year-old Ottey, is expected to make Jamaica's Olympic squad, but only in the 4x100 meter relay team.
The four runners are expected to form Jamaica's 4x100 relay team at the Australian Olympics in September.
Ottey, winner of seven Olympic medals and 14 world championship medals including two gold, has been at every summer Games since Moscow in 1980.
She said on Friday her enforced absence from athletics as a result of the drug-taking allegation had been like a ``death sentence'' but she remained confident she would get in shape in time for the Games.
Ottey said: "In about six weeks I can get to running under 11 seconds ... I've done it in the past. I have the experience and I have the confidence.''
Ottey was banned after testing positive for the controversial anabolic steroid nandrolone but the ban was lifted on July 3 by an International Amateur Athletic Federation panel.
Cankar sixth in Salamanca
Salamanca, July 20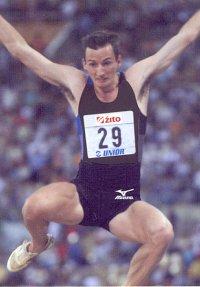 Gregor Cankar performed today at Salamanca meeting in Spain and placed sixth with a jump of 7,78 m. Today's winner is James Beckford from Jamaica - his best today was 8,34 m. World record holder, world record holder, Cuban Ivan Pedroso finished fourth today - he also had no jump over 8 m.
This meeting was Gregor's latest official meeting before leaving to our coast where he will be preparing himself (along with some other athletes coached by Srdjan Djordjevic) for the Olympic Games.
Brigita, Matija & Merlene chasing Sydney
Ravne na Koroskem, Kingston - Jamajka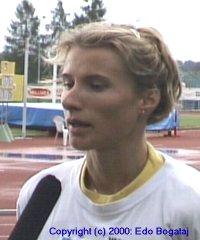 Brigita Langerholc (left), our national champion and record holder at 400 m and a record holder at 800 m as well as Matija Sestak (below right), our national champion and record holder at 400 m, will tonight try to catch their tickets for Sydney - Brigita in a race at 800 m, while Matija is going to try to reconfirm his entry standard at 400 m.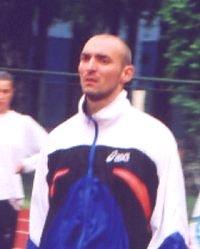 You can expect reports on their races late tonight (around 10;00 PM local time).
The same task is in front of our friend, Jamaican Merlene Ottey who will in her hometown Kingston at Jamaica try to confirm her entry standard at 100 m. Tonight around 6:00 PM local time she's having the heats while her final race is expected tomorrow. If she confirms her entry standard, which is 11.06 seconds for a 100 m - females, she travels to Sydney, although there has already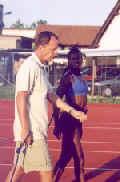 been a hint from her national association's president Mr. Adrian Wallace that Merlene is going to Sydney anyway - their only condition is that Merlene appears at the trials tonight.
On the photo to the left you can see Merlene Ottey about a month ago, photographed at Ljubljana stadium while preparing under guidance of her coach Srdjan Djordjevic for her trials as well as for the Games in Sydney.