TV prenosi

SLO results
Poglejte VIDEO posnetek tiskovne konference

Pridružite se LIVE CHAT-u z Merlene Ottey

Watch her Press Conference VIDEO

Join our LIVE CHAT with Merlene Ottey
Soonest possible we intend to publish all the relevant data of our National Team Members that have already met the Olympic entry standards. Many of them will tell you their own stories. Visit us again & read info below!
Merlene is improving every day
Ljubljana, August 14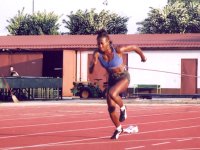 Merlene ran at a meeting in Ljubljana today just to test her improvement. She performed very well in two 100 m races at the stadium that's been her training base for almost two years now.
In the first, qualifying race she ran 11.25 while she "exploded" in her final race, though there were no real rivals in the field. She ran a fantastic time: 11.00 with a +1,3 wind, proving that she's well on her way to the Olympic medal.
As her coach Mr. Srdjan Djordjevic told us today, Merlene is already prepared well enough to run some 11.80 and today's result couldn't be a better proof of his words.
Merlene Ottey will continue to train in Ljubljana over the next ten days and run in two or three more international competitions later this month.
Her statement after her 2 races in Ljubljana:
"After my good race in Zurich last Friday, I wanted to test my form and fitness at this small meeting here at my training base in Ljubljana. I am happy with my progress and I am looking forward to faster times against world class competition later this month and in Sydney."
Roman is a happy father
Roman Kejzar, our long distance runner and Slovenian representative in Marathon at Sydney Olympics is a happy father ...

... his lovely wife Mateja gave birth to their daughter Sara today morning.

Roman is thus the only married athlete in our track & field team and the only father.
Our Team for Sydney
Ljubljana, August 11
Our National Track & Field Team for the Sydney Olympic games as proposed today by our Olympic Committee - the team is not verified by our Executive Board (final decision is expected on August 21):
Athlete
Sex
Coach
Discipline
Anja Valant
F
Borut Bilac
triple jump
Gregor Cankar
M
Srdjan Djordjevic
long jump
Alenka Bikar
F
Jure Kastelic
200 m
Roman Kejzar
M
Borut Podgornik

marathon

Helena Javornik
F
Borut Podgornik
1.500 m & 5.000 m
Eufemija Storga
F
Lovro Umek
javelin
Primoz Kozmus
M
Vlado Kevo
hammer throw
B. Langerholc
F
D. Vuckovic
800 m-?
4 x 400 m
Jolanda Ceplak
F
Tomo Popetru
800 m-?
4 x 400 m
Sasa Prokofjev
F
4 x 400 m
Meta Macus
F
Ico Gergov
4 x 400 m
Matija Sestak
M
Slavko Crne
400 m-?
4 x 400 m
Boštjan Horvat
M
200 m-?
4 x 400 m
Jože Vrtacic
M
4 x 400 m
Sergej Salamon
M
4 x 400 m
Urban Acman
M
Srdjan Djordjevic
4 x 100 m
Matic Osovnikar
M
Albert Soba
4 x 100 m
Matic Sustersic
M
Albert Soba
4 x 100 m
Bostjan Fridrih
M
4 x 100 m
Brigita Bukovec
F
Jure Kastelic

100 m hurdles

Igor Primc
M
discus
Some athletes are still expected to reconfirm their individual Olympic entry standards by September 11 if they are to compete individually as well (Brigita Langerholc, Matija Sestak), while Brigita Bukovec and Igor Primc haven't met their entry standards yet, but are also expected to do so on time.
Come back for a History!!!
She did it! At 40 years (and exactly 3 moths) of age she ran her best 100 m of the season - 11.06 was her time and she took third place, just after Marion Jones and Inger Miller!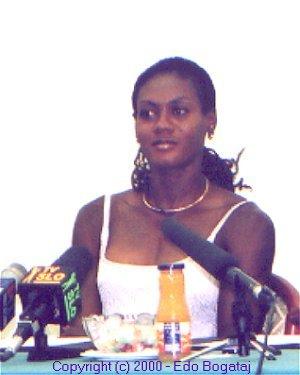 Can you imagine Olympic finals without Merlene Ottey? No way!
Merlene Ottey at Weltklasse in Zürich
Zurich/Ljubliana, August 6, 2000
Here is the newest info on Merlene Ottey's schedule. The news was just released by her manager Mr. Daniel P, Zimmermann: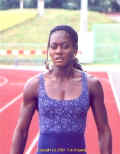 In her preparation for her sixth Olympic Games in Sydney, Merlene Ottey will compete in the 100 meters at the Weltklasse meet in Zurich, Switzerland on August 11, 2000.
And here is what Merlene had said about her expectations:
"I am very happy to return to the most prestigious meet on the Grand Prix circuit and test my fitness after an intense three week training period. I am looking forward to run against the best in the world at the Letzigrund stadium and would like to thank Res Bruegger and his crew for welcoming me there. It will be a great thrill to say goodbye to all my Swiss fans that have supported me during the last two decades."
Primoz Kozmus set new national record again
Ljubljana, August 5
Our national record holder in hammer throw, young Primoz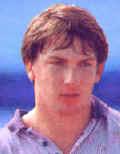 Kozmus improved his national record for the second time within 5 days.
On August 1, in Zagreb, Croatia he improved his previous record set only a fortnight ago in Poland, and moved it to a new mark at 74,85 m. But he felt he could do it even better.
And he was right - today at a meeting in Hungary he did it. His new record mark is now at 76,84 m, which means that he also met his Olympic entry standard.
When a week ago he said he could be throwing the hammer up to some 77 m, there were few who believed him.
Merlene's schedule of competition
Zürich, Ljubljana, August 4
According to latest information received yesterday from her manager Mr. Zimmermann, we can expect the newest schedule of Merlene's competitions to be published within few days.
Our National Track & Field Team for Sydney
Ljubljana, August 4
The Presidnecy of our National Athletic Federation confirmed the list of 18 athletes that will represent Slovenia at Sydney Olympics:
Alenka Bikar - 100 in 200 m

Helena Javornik - 1.500 in 5.000 m

Anja Valant - triple jump

Eufemija Storga - javelin

Roman Kejzar - marathon

Gregor Cankar - long jump

men's relay 4 x 100 m (candidates are: Bostjan Fridrih, Matic Sustersic, Urban Acman, Matic Osovnikar, Tilen Gartner in Rok Predanic)

men's relay 4 x 400 m (candidates are: Matija Sestak, Bostjan Horvat, Sergej Salamun in Joze Vrtacic)

women's relay 4 x 400 m (Brigita Langerholc, Jolanda Ceplak, Meta Macus in Sasa Prokofjev)

Brigita Langerholc - 800 m

Matija Sestak - 400 m

Bostjan Horvat - 200 m

Igor Primc - discus

Jolanda Ceplak - 800 m

Saša Prokofjev - 100 m

Primoz Kozmus - hammer
Of course, there is also Brigita Bukovec as our only medal defender form Atlanta 1996 and she is expected to be given a special treatment, though she also has to confirm her Olympic entry standard (13.10) for her discipline - 100 m hurdles. Her own statement is well known already and she herself will decide whther to perform in Sydney or not.
Final decisions on our National Team are expected on August 21 - meanwhile all the athletes, mentioned above have enough time to prepare and to reconfirm their standards.
Brigita is going to run in Sydney
Ljubljana, July 27
After yesterday's successful come back at the international meeting in Trieste, Italy, Brigita came out with her final decision today. After having discussed and reconsidered her situation with her coach Jure Kastelic, Brigita decided to go to Sydney Olympics.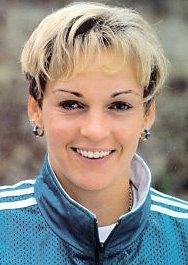 Her decision has been well thought over over the night and today's morning and doesn't mean that she is definitely going to compete at the Olympics. One should be aware that Brigita is very responsible person and she said a few hours ago she will only compete if by the end of August she feels confident enough to run at least 12.80 seconds.
Her coach however, is already confident enough in Brigita and has no doubt whatsoever that she'll soon be capable of reconfirming her Olympic entry standard (which is 13.10 seconds), if not earlier than by August 21.
Brigita started her intensive training session today at Ljubljana stadium and will continue to work in Ljubljana for another 3 days. After that, on Monday she travels to Koper, where she and her good friend, our fastest female athlete, national champion and record holder at 100 m and 200 m, Alenka Bikar (also coached by Jure Kastelic) will remain for some 10 days.
Brigita's today's decision besides a fundamental change of her training also means that she'll have to test her capabilities at an appropriate competition. She plans to run at some 4 races in August and by the end of the next month she also plans to run at some GP meetings.