Jolanda Ceplak is the World Record holder for the 800m idoors race! She is also the Indoors European Champion. Her rise to the status of world record setter was not, as some might think, of the "out-of-nowhere" variety. She began the 2002 season with a respectable 1:59.81 indoor best from 2001, and after consistent middle-of-the-pack finishes in Grand Prix and Golden League races last year, earned a No. 10 world ranking from Track & Field News.
It was in the junior ranks that she first displayed some hints of promise. Before her 16th birthday, she already had 2:10.15 and 4:31.90 bests to her credit, and improved to 2.07.91 at 17 when she finished fourth in the 1993 European Junior Championships. By 2000, she was a regular fixture on the European circuit, finishing fourth in the 2000 European Indoors (2:02.10), and sixth at the 2001 World Indoor Championships (2:02.67).
To cap off her 2002 indoor campaign and "run one more good race indoors," she competed in a "no pressure" 1,500 in Glascow a week after her record run in Vienna. She lowered her metric mile PR to 4:05.44, winning the fastest 1,500 race of the year. Her outdoor 800 PR is 1:58.71 set last year.
Get to know Jolanda better...

Jolanda Ceplak (pronounced Chep-Luck) was born on September 12, 1976 in Celje/Slovenia. She lives in Velenje, a town of 26,000 people in the foothills of northern Slovenia where she also got married to Ales Ceplak. Velenje is about 1 hour by car away from Ljubljana.
Her career started 14 years ago when she started off with Cross Country and all the distances you run at this age starting from 400m all the way through to 3000m. She was always among the best athletes in the country in her age group and then moved up to European Class when she picked a medal at the European Junior Championships in 1500m.
She used to win all races but when she moved out of the Junior devision it became more difficult and the hard years in Jolanda's career started. It only got slightly better two years ago when she was 4th at the European Indoor Championships in Gent in 800m which was her new favorite event by then.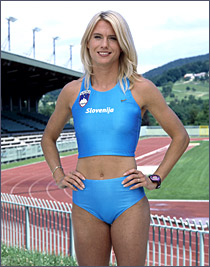 Jolanda Ceplak had her first international year in athletics when she started to work with her current agent, Robert Wagner (Austria), who was representing 16 Olympic Champions since 1988 and is currently representing other world class athletes like Colin Jackson (GBR), Heike Drechsler (GER), Anjanette Kirkland (USA), Bernard Williams (USA), and many more.
Jolanda was 6th Place in the World Indoor Championships in 800m, set a new Slovenian Indoor Record in Sindelfingen and won her first Grand Meetings in Rio/Brasil and Doha/Qatar. She managed to qualify for the Grand Prix Final in Melbourne where she finished in 6th Place there as well as in the Goodwill Games in Brisbane. In 2002 Jolanda Ceplak so far only lost one race indoors but then set an brilliant New World Indoor Record winning the Gold Medal at the European Indoor Championships in Vienna in 1:55,82.
She started the outdoor season with also breaking the Slovenian Outdoor Record winning the European Cup for Clubs in 1:57,63 in Lisbon. Her idol is still Svetlana Masterkova from Russia who won two Gold Medals at the Olympic Games in Atlanta 1996. The 1500m is still in her mind eversince she also set a New National Indoor Record in the 1500m in Glasgow in March 2002 and a National Outdoor Record in Zagreb in July. Right before the European Championships in Munich Jolanda Ceplak broke the 800m National Record again running 1:55,19 which is the 7th fastest all-time in 800m history.