| | | |
| --- | --- | --- |
| 30.07.2002 | I will decide whether to double when I get to Munich | |
July started for me with a 1500m race in Zagreb, which was almost comical for the pace making. We started perfectly with a 62 -second lap but then went through the second 400m in 70 seconds. I then had to decide if winning was more important than trying to break the National Record. I chose to go for the record and was beaten.
It was the same in Stockholm at the DN Galan. I made a tactical mistake, but so did Maria Mutola, and Nicole Teter who ran a very smart race beat us both.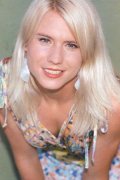 When I saw the results from the Herculis Golden League meeting, it crossed my mind that I may have made the wrong decision not to run there. But there again, in Hechtel I ran almost a perfect race. I was very happy with 1:55.19 even though I was not concentrated enough to run hard all the way to the finish.
In between my races I did some stuff for magazines like Cosmopolitan (see picture), and some pictures for my sponsor SPAR for their campaign in the supermarkets in Slovenia, where I endorse a product called "Natur pur". I also did a TV spot and radio ads, so that kept me busy. We also had some athletes from our group training in my hometown. Colin Jackson and some other British athletes came to Velenje and trained there before the Commonwealth Games. Having athletes of his calibre coming to train means a lot for the city.
I train twice almost every day, and get the usual rest, physio and massages. I do everything necessary to keep my legs in order. I'm really sacrificing a lot to keep in shape and be ready for Munich, which is so important to me. I will decide when I arrive whether to double at 800m and 1500m. It basically depends on how many rounds we will have in the 800m. I still have some important races after Munich and do not want to be too tired.
All in all, I should be OK for the European Championships but I know it is not so easy to win there. Anything can happen and I will really have to concentrate in every round.
I will update my diary when I get to Munich on 4 August. I will stay at the Hospitality Centre of my shoe company (thanks to their European representative Karl Stith). It is in a very nice area, right near the English Garden, where I can go running.
Jolanda Ceplak