28.08.2002

London: Holmes to face Ceplak
27.08.2002

Rovereto: Jolanda improved National Record

Jolanda set new National Record yesterday in Rovereto. In a 1000 m race she further improved her own record set only nine days ago at the Gugl meeting in Linz/Austria.
Her improvement is significant again and her new national record is now: 2:31,66 - nearly 7 seconds better than in Linz.
24.08.2002

London: Mutola stronger again

In the women's 800 event, Mozambique's Maria Mutola took another win over Slovenia's European indoor and outdoor champion Jolanda Ceplak. Mutola, the world and Olympic champion, romped home 150 metres away from the finish to cross the line in 1.59.06 minute, less than two seconds outside the stadium record that she had established back in 1993.
19.08.2002

Fireworks on the track from Mutola and Ceplak

IAAF
19 August 2002 – Linz, Austria – Billed as the showcase event of the Gugl-Meeting, an attempt on the world record over 1000 metres by Slovenia's Jolanda Ceplak and Mozambique's Maria Mutola was preceded by a firework display normally reserved for the end of the meeting.

Although the assault on the record (2:38.08) was unsuccessful, there were fireworks on the track as Mutola and Ceplak sprinted for the line after Hungarian Judit Varga had led through 400 metres in 1:03.20 and 800 metres in 2:09.88. The two record pretenders had played a waiting game, turning this into a tactical race and it was not until Varga led into the home straight that the pair accelerated to pass the Hungarian and sprint for the finish, followed by Canada's Diane Cummins. In the end it was Mutola who had the better of the duel, as she pulled ahead of Ceplak 50 metres out and held off the Slovenian to the line to finish in 2:38.08, as Cummins also pulled ahead of Ceplak, coming second in a personal best of 2:38.45, with Ceplak third in 2:38.50.
18.08.2002

European 800 metres champion Jolanda Ceplak says she is concentrating on breaking a world record and not Kelly Holmes' recent allegations of drug-taking.

Holmes, who took bronze behind Ceplak in Munich, suggested after the race that some of her opponents may not have been "clean" - which many took as a reference to the Slovenian.

However, Ceplak, who has dramatically improved this season, says she is only focused on an attack on the world 1,000m record in Linz on Monday.

And she also dismissed any suggestions of drug-taking.

"Why do people think because you are running fast times you are taking something, " she said.

"Six hours out of every 24 are spent training very hard, the others eating, sleeping."

Superb season

Ceplak broke the 800m indoor world record in March, and last month ran the fastest time outdoors over the distance by a woman since 1997 - having only been ranked 13th last season.

But the front-running athlete says her improvement is down to her new, tougher training schedule from San Diego-based coach Ales Skoberne.

The European champion had a spell of warm-weather preparation in Australia prior to the outdoor season, and has also benefitted from the managment of Robert Wagner.

She joined Wagner's stable, which also includes Colin Jackson, in the winter.

In Linz, Ceplak is up against Olympic 800m champion Maria Mutola, as they both go for the record mark of 2:28.98 set by Svetlana Masterkova in 1996.

Jackson himself will also fly from Sunday's Glasgow meeting to compete in the 110m hurdles in Linz.

The four-times European champion will face Olympic gold medallist Anier Garcia of Cuba and South Africa's Shaun Bownes, who beat Jackson for the Commonwealth title in Manchester.
17.08.2002
Gugl-Meeting to showcase Ceplak-Mutola 1000 metres record attempt


17 August 2002 – One of the major highlights of Monday's Gugl-Meeting in Linz will be the combined assault on the women's 1000 metres of European 800 metre Champion Jolanda Ceplak (SLO) and Mozambique's reigning World and Olympic Champion Maria Mutola.

Ceplak has been in outstanding form this year, with victories in both the European Indoors in Vienna in March and more recently in Munich, where she dominated the European outdoor championships. But Mutola has been sharpening her act with a 400 metres race in Helsinki and just how keenly she has honed her performances was evidenced by her victory over the Slovenian in Friday night's IAAF Golden League meeting in Zurich, where the Mozambican was a convincing winner ahead of Ceplak: timing 1:57.24 to 1:57.78.

The current world record over 1000 metres has been held by Russia's Svetlana Masterkova since August 1996, when Masterkova recorded 2:28.98 over two and half laps of the fast track in the King Baudoin Stadium in Brussels. The time could well be with in the range of either Mutola or Ceplak, with good pacing backing up the pair's rivalry. In all events Ceplak will want to revenge her defeat in Zurich and this double attack on the record is sure to provide some fireworks assuming that the terrible weather that has been hitting Austria in recent days doesn't dampen the show.

The women's 1000 metres may be the showcase race of this meeting, but there will be plenty of other star action in the Linz stadium in both track and field events.
Ceplak ends Holmes' hopes

Kelly Holmes:I've been running well over 1500m but the 800m has been hard for me this year

Jolanda Ceplak led from start to finish to win the women's 800m at the European Championships in Munich.

Britain's Kelly Holmes had no answer for the Slovenian and had to settle for bronze behind Mayte Martinez of Spain in second.

Ceplak went off at a furious pace on the opening lap and left the rest of the field trailing in her wake.

She passed the bell in 57.61secs and her competitors were happy to let her go it alone in the hope of the Slovenian tiring badly in the final stages.

But she stretched her advantage and with 200m to go she looked like holding an unassailable lead.

Holmes and Martinez seemed to be cutting into the lead going round the final bend, but Ceplak showed great strength to hold on and take the line in 1:57.65.

Martinez edged out Holmes down the stretch in 1:58.86, with the Briton crossing the line in 1:59.83.

Holmes was more than happy to add a bronze medal to the gold she took in the 1500m at the Commonwealth Games.

"I just had to go for it," she told BBC Sport. "I've been running well over 1500m but the 800m has been hard for me this year.

"I've got to be pleased with a medal. I got one last week and another one this week.

"I'm doing it cleanly and I couldn't ask for any more."
09.08.2002
Coe defends Ceplak

Ceplak: I can go to doping control every day and every hour, and I'm not taking anything

Former Olympic champion Sebastian Coe tells BBC Radio Five Live why Jolanda Ceplak is right to be angry about the doubts cast over her performance.

The problem with making a large and sudden breakthrough on the track is that you will soon become the subject of a whispering campaign.

And this is what has happened to Ceplak.

She has taken a lot of time out of her 800m performance, won the European indooor championships and run the fastest time this year.

Last night's performance, interestingly, was good but it was not out of this world.

She ran a very fast time but what was going on in the rest of the field was pretty unspectacular.

I think there is a view that if anyone wants to question one of her performances, last night's was not the one to question - it may have been a performance earlier in the year.

Ceplak, however, is understandably angry about the rumours of doping. She feels she has worked hard for 15 years and trained diligently.

I know she has changed her training and the way she's approached racing this year, and I think she was a bit taken aback at the press conference by the implication that she had cheated.

Paula Radcliffe has been outspoken about doping in the past, particularly on the subject of athletes who have failed tests only to be welcomed back due to technical problems with the testing procedures.

The danger of raising the issue of doping is that it inevitably casts doubt about an athlete's performances, even if there is no real evidence to support such a claim.

In truth, the only real evidence is a positive test.

I have competed against athletes that I have had suspicions about. But to cast doubts about the legality of their performances, via the media, is a difficult, and unnecessary, game to play.

In regard to what Kelly Holmes said, I think if an athlete wishes to make a remark they should be allowed to.

This is sport, not politics - we are not on a three-line whip here.

But I think she will be asked, quite rightly, to clarify her remarks.

July 20th 2002
Ceplak takes the World No.1 again
With the World Leading Time of 1:55,19 in a National Record Jolanda Ceplak took the No. 1 position in the World List 2002 again back to Slovenia. Ceplak was more than 3,5 sec ahead of Belgiums Sandra Stals winning the "Night of Athletics" in Hechtel/Belgium.
AZS President Roman Jakic had given Ceplak clearence to compete in Hrchtel instead of going the the national Championships and Jolanda wants to thank AZS for their understanding.

July 19th 2002
Stockholm: Jolanda Ceplak 1:58,63
Third place for Jolanda Ceplak at the IAAF Grand Prix Meeting in Stockholm in 1:58,63. Battling with Olympic Champion along the homestraight the US athlete Nicole Teter surprised the top 2 800m runners of this years season and took the victory. "Jolanda and me gave her a Christmas gift today", commentated Maria Mutola after coming second in that race. "We were too busy watching each other", so the Olympic Champion. Looking at the European athletes Jolanda Ceplak was still clear almost three seconds off her teammate Brigita Langerholc who was the second best European in Stockholm in 7th place.
July 10th 2002
Jolanda Ceplak now holding 1500m Record
At the IAAF Grand Prix Meeting in Zagreb/Croatia Jolanda Ceplak again broke a National Record: Coming Second behind the Belorussian Alesya Turova she bettered her own personal best and the Slovenian National record in that event to 4:05,59. Terrible pace making - 62 seconds for the first 400m and 70 seconds for the second 400m - did not allow a better time but Jolanda was happy to have now all records from 800m to 1500m indoors and outdoors.
June 30th 2002
2nd Place in Sheffield
The Olympic and World Champion Maria Mutola (MOZ) ended Jolanda Ceplak series of 11 unbeaten races in Sheffield/GBR. In a classic race without a pacemaker Jolanda Ceplak took the lead about 300m to go but had to pay her tribute to the strong wind on the backstraight where she led Mutola all the way to the last 50m until The Olympic Champion made her move and won with a small margin of 9 hundred of a second in 2:00,84 to 2:00,93 from Jolanda. "A race to learn out of"so Jolanda Ceplak, who was blocking the wind for the rest of the field. She used up all her energie fighting the conditions instead of fighting the athletes. "At least I will learn out of this and I am one experience richer on my way to my goals. Loosing against Maria Mutola is not a shame, there is always something you can gain from racing this experienced athlete".
Important for the European Championships was that all the opponents for the European Championships in Munich were clearly behind Ceplak. The closest was Britains Kelly Holmes who came 4th in 2:02,11.
It's hammer time at the Telstra A-Series in Adelaide
23 March 2002 | 6.04pm
Watch out other hammer throwers in the Commonwealth - Bronwyn Eagles continues to raise the record.
Today's Telstra A-Series meet at Santos Stadium in Adelaide was highlighted by Eagles' record-breaking throw, a return to world-beating form of pole vaulter Viktor Chistiakov, a hair-raising women's 800 metres race and the improvement of Gold Coast 400m runner Michael Rehardt.
Revved up by an enthusiastic Adelaide crowd Campbelltown hammer thrower Bronwyn Eagles (NSWIS) broke her own Commonwealth record with a performance of 69.65m.
In the first throw of the competition Eagles launched the 4kg ball and chain out 27cm further than her previous Commonwealth record of 69.38m.
Some lucky members of the crowd won a Telstra prize pack because of Eagles' effort. A distance range over the Commonwealth record was printed in the event program, and the crowd members with the winning distance won a prize courtesy of Telstra.
Fellow Australian representative Karyne Di Marco (NSWIS) was second with a throw of 64.55m and South Australia's number one Brooke Krueger threw 63.69m for third.
Local boy Viktor Chistiakov (SASI), an Olympic and World Championships finalist, set a season's best of 5.77m to win the men's pole vault from WA's Paul Burgess who cleared 5.40m. The win was sweet revenge for Chistiakov after he placed second in Perth last weekend to Burgess.
Reinforcing her recent great form, Western Australian Kym Howe took out the women's pole vault with a clearance of 4.40m edging out Olympic silver medallist Tatiana Grigorieva (SASI) on a countback.
Howe won last weekend at the Telstra A-Series > Perth and made it two weeks in a row in front of Tatiana's home crowd.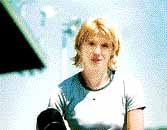 In the tightest tussle of today's meet, Melbourne's Tamsyn Lewis (VIS) looked set for an 800m victory over the world indoor record holder Jolanda Ceplak from Slovenia.
However Ceplak kicked and lunged with metres to go and got the judges nod in 2:00.88 with Lewis second in the same time. In a great race the first seven placegetters finished under 2:04.00.
Gold Coast rising star Michael Rehardt (QAS) showcased his ability clocking his first Commonwealth Games 'A' qualifier in the 400m as well as reducing Darren Clark's Meet Record of 45.98s.
Rehardt, 20, clocked 45.54s in a fast race to hold off the national champion Paul Pearce (VIC - 45.84), fast finishing Clinton Hill (NSWIS - 45.85) and an improved Patrick Dwyer (NSWIS - 45.95s).
World record holder Colin Jackson from Wales came home strongly to win the 110m hurdles in 13.46s ahead of Austrian Elmar Lichteneggar who clocked 13.69s. Australia's leading man this season Tim Ewen (VIC) was third in 14.07s.
National champion Jacquie Munro (NSWIS) is peaking at the right end of the season with a fast 13.16s winning time in the 100m hurdles. She overcame close rival Fiona Cullen (QAS) who set a personal best of 13.26s for second.
Olympian Kris McCarthy (VIS) clocked a season's best of 1:46.70 to street the field in the men's 800m, only half a second away from setting another Commonwealth Games 'A' qualifier.
Australia's leading 100m man at the moment Paul Di Bella (QAS) continued his success this season holding off the fast finishes of Patrick Johnson (AIS) and Matt Shirvington (NSWIS) to take today's event in 10.36s.
Di Bella was also a victor in Perth last weekend and will go into the Telstra A-Championships in three weeks time as a deserved favourite. Both Johnson (10.42s) and Shirvington (10.45s) have improved with each run in recent weeks, especially Shirvington who showed an uncharacteristic strong finish after a poor start.
In another good result for WA, Nicole Mladenis continued her dominance in the triple jump with a wind-assisted winning leap of 13.98m, nearly making it three weeks in a row over 14m.
Great Britain's Vernicha James won the 100m in her first hit-out in Australia in 11.53s (1.4) from WA's Jodi Lambert (11.54s) and Queensland's Sharon Cripps (11.67s).
Lambert backed up to win the 200m in 23.41s (0.9) with James second (23.51s) and Cathy Freeman (VIS) placing third in 23.67s.
NSW's Youcef Abdi won the 1500m in 3:40.81, Michelle Haage (NSWIS) took out the shot put with 15.24m, David Geddes (NSWIS) was successful in the 200m in 21.01s (-1.3), Andrew Murphy leapt out to 16.60m for victory in the triple jump, Russia's Sergey Lyakhov won the discus throw with 59.42m, Casey Narrier cleared 1.82m for a win in the high jump, Great Britain's Catherine Murphy won the 400m in 52.14s and Andrew Currey launched the spear out to 80.93m in the javelin throw.
Victoria's Michael Hazel continued his great start to his 400m hurdles career with another win today. Hazel, a former Olympic 400m relay rep, clocked 50.61s to win over Matt Beckenham (AIS - 51.49s).
Goodwill Games silver medallist Bronwyn Thompson (QAS) won the long jump with a best leap of 6.40m after two jumps before passing on her remaining four.
Australia's athletes are now preparing for the Telstra A-Championships, Commonwealth Games trials, to be held at ANZ Stadium in Brisbane from 11-14 April.
Freeman back in business with first 400 metre win of 2002
Athletics Australia
16 March 2002 - Perth, Australia - Olympic champion Cathy Freeman (VIS) returned to 400m racing in successful style amongst a swag of meet records at today's Telstra A-Series meet at Perry Lakes Stadium in Perth.
The 29-year-old won her first national race in a domineering performance. Freeman opened up a strong lead down the back straight before entering the final 100m to thunderous applause by the large Perth crowd in excess of 5000.
Running into a 'brick wall' wind in the home straight, Freeman clocked 52.59s ahead of training partner Katerina Dressler (VIS) 54.02s.
In a great 800m tussle, world indoor record holder Jolanda Ceplak from Slovenia overpowered Australian champion Tamsyn Lewis (VIS). Ceplak clocked a meet record of 2:00.71 with Lewis second in 2:01.21, Queensland's Adrienne McIvor third in 2:02.28 and Olympian Susan Andrews (WAIS) fourth in 2:02.51.
Another world record holder Colin Jackson from Wales turned his European indoor form into an outdoor victory in the 110m hurdles. Jackson stormed away towards the finish to clock 13.31s (1.9) with Austrian Elmar Lichteneggar recording 13.59s for second and form Australian Tim Ewen (Vic) clocking 13.85s in third.
Local girl Kym Howe (WAIS) upstaged Olympic silver medallist Tatiana Grigorieva (SASI) in the pole vault with a personal best clearance of 4.45m. Grigorieva placed second with a best of 4.30m and Bridgid Isworth (VIS) third with 4.30m.
In another upset Melbourne hurdler Sonia Brito (VIS) set a meet record of 56.45s to win the 400m hurdles ahead of Olympian and world junior champion Jana Pittman (AIS) 56.92s.
National record holder Justin Anlezark (QAS) once again took the honours in the men's shot put with a best throw of 19.76m eclipsing the previous meet record.
In an enthralling men's pole vault competition former world junior champion Paul Burgess (WAIS) won on a count-back from World Championships finalist Viktor Chistiakov (SASI) after both cleared a meet record of 5.70m.
A name to mark down for the future is Townsville athlete Tim Parravicini now based at the AIS in Canberra. Parravicini leapt out to a sensational 8.00m to win the men's long jump however his performance was assisted by an illegal tailwind of 3.3 metres/second.
Another close contest was had in the men's 400m with the judges unable to split NSW's Clinton Hill and Victoria's Paul Pearce who both crossed the line in 46.29s.
Continuing the success of Australia's male throwers Andrew Currey (NSWIS) launched the javelin out to 84.74m for victory.
In other outstanding performances, Perth triple jumper Nicole Mladenis leapt out to 14.21m, the longest jump ever by an Australian but unfortunately aided by an illegal tailwind of 4.7 metres/second; Paul Di Bella (QAS) won the 100m in a wind-assisted 10.26s (+3.5m/s), Commonwealth champion Stuart Rendell (AIS) threw 76.49m to win the hammer and current golden girl Bronwyn Thompson (QAS) continued on her winning way recording a wind-assisted 6.60m long jump.
Ceplak's World Record training @ internet.com
Chris Turner for the IAAF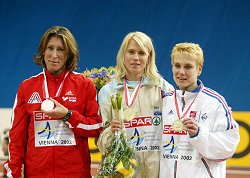 13 March 2002 - At the start of the recent European Indoor Championships in Vienna, there seemed little chance that any athlete would be able to upstage Austria's Stephanie Graf , the local heroine and defending champion at the women's 800 metres. Only Russia's vaulting super star Svetlana Feofanova, who had entered the championships having set four women's World indoor pole vault records, and duly capped her season with a fifth (4.75m) on the final day in Vienna, seemed a possible headline contender.
However, waiting in the Viennese shadows, like a character from the Orson Wells film "The Third Man", was Graf's nemesis, Slovenia's Jolanda Ceplak. A new name to many this indoor season, Ceplak (outdoor 800m best - 1:58.71 minutes), had run a blistering race in Gent on February 10th, running 1:57.18 to Graf's 1:56.85, with both finishing ahead of reigning World and Olympic champion Maria Mutola of Mozambique. Still even with this credential to her name, and an easy 1:59.60 heat in Vienna, the Slovenian seemed destined for the silver medal, in what was expected to be Stephanie's golden party.
The final turned out to be a different story. Ceplak relentlessly set a fast but even pace from the front, with laps of 28.24, 29.00 and 29.34, saving enough strength, that when Graf inevitably went past before the final bend, the Slovenian was able to respond and out-dip the Austrian at the line in 1:55.82, a new World record, with Graf just 3/100ths behind. The last 200m had been run in 29.14 seconds.
Ceplak's remarks summed up such a spectacular race. "I gave everything I had, as I understood that I was getting close to the World record and that was my main goal. A fast race was convenient for both of us, so I went for it, telling myself 'if I die, I die.' All the hard work I have done this winter finally paid off."
Yet the story of Ceplak's training schedule is perhaps even more astonishing than the World record race itself!
Ceplak, who was born in the small Slovenian town of Celje, moved with her family after six years to Velenje, where she has lived ever since. There she began running at the age of eleven, coached under the watchful eye of Tomislav Petrov, doing mainly cross country running, and 600m/1000m on the track. In 1995, she had her first international success taking the bronze medal at 1,500m at the European Junior championships.
However, despite that success, she remained uncertain as to what distance she had most potential at, 800m or 1500m, and the next four years brought about a period of chopping and changing with training schedules. It was a period of indecision, which in 1999, ultimately led to Ceplak changing her coach.
Her new mentor was a young man (27 years old) called Ales Askoberne, who, also came from the town of Velenje, and brought about a new regime, in which for the first time, sprint and gym training became part of Ceplak's training schedule.
Yet most unusually, because Askoberne is studying for a university degree in Economics in San Diego, America, the coaching relationship was, and continues to be, carried out nearly entirely via email over the internet, with only occasional personal contact – the last in December and the next in May – when Askoberne visits his family, back in Velenje,.
"It's surprising you may think but there are no difficulties in coaching by this method. I really enjoy it," confirms Ceplak. "Ales sends me my training sessions by email a week at a time and my old coach Tomislav holds the (stop) watch for me while I train. Tomislav and Ales are good friends and there isn't any jealousy about who coaches me. In fact, the paper on which I print out the messages, that's my real coach!"
"My training nowadays is nearly entirely on the track with very little cross country running. I also do long, triple and high jumping practise. Not because I like it, but because my coach says it's good! It seems to make me feel lighter, like I am springing with every stride I take."
Despite the thousands of miles, which separate athlete and coach, there is no lack of trust between Ceplak and Askoberne. Ceplak confirms that, "he always knows I will stick to the schedules he sends. I want to run good and I believe in his coaching methods. Without that weekly piece of paper to guide my training I find myself totally lost and can do nothing! Maybe 50 times a week, I will look at the training advice he has sent to me, it is a great comfort to hold that paper in my hand."
Given Ceplak's and Askoberne's cyber relationship, it is therefore quite appropriate that Ceplak concludes by saying that "Askoberne didn't see my race in Vienna and, though I have a video of it for him, he originally only heard about my win and the World record from the internet!"
Ceplak to attempt 1500m World Record in Glasgow Chris Turner for the IAAF

9 March 2002 – Glasgow, Scotland - Slovenia's Jolanda Ceplak, who stunningly beat Austria's heroine Stephanie Graf to the women's European Indoor 800m crown in Vienna last Sunday, smashing the fourteen year old world record in the process with a time of 1:55.82 minutes, will make a World Record bid at 1500m at the Norwich Union International in Glasgow on Saturday 9th March.
Ceplak will represent an "All Stars" team in the international, which also pits the hosts Great Britain, against teams from Russia, Germany and Sweden, in the Kelvin Hall stadium. Ceplak's sights on Saturday will be set on the 1500m World record time of 4 minutes 0.27 seconds, which has stood to Romania's Doina Melinte since 9th February 1990.
Unusually for a team match, the other competitors have agreed that a guest pace maker can be used to assist Ceplak in her attempt. Meeting Director Ian Stewart, the 1972 Olympic 5,000m bronze medallist, confirmed "it's normal in a match environment for each race to be run on its merits, but with Jolanda in exceptional form and…the agreement of her opponents…we have decided to give her every chance to break the record."
Svetlana Feofanova, who set her 5th World Record (4.75m) in the women's pole vault this season, when winning the European title in Vienna, heads the Russian team line up. Considering the manner of her World Record spree in the last 25 days, it would be a brave person to bet against Feofanova clearing another World Record in Glasgow. The Russian should draw inspiration from her opposition, as it includes Germany's Yvonne Buschbaum, who took the silver medal behind her in Vienna.
In the rest of the women's programme, Russia's Natalya Antyukh, who dominated the European Indoor 400m final, faces newly crowned US champion Monique Hennagan, while in the high jump, another Russian European gold medallist from Vienna, Marina Kuptsova, will battle against Hungary's Dora Gyorffy, the joint European silver medallist, and Britain's Vienna fifth placer, Susan Jones.
However, the host nations best hope for a field victory in Glasgow stands with Ashia Hansen, the women's World Indoor triple jump Record holder, who took silver in Vienna with a jump of 14.71m. Hansen will face Russia's Nadezhda Bazhenova, who was fourth in that same European final.
Jamaica's World Indoor Champion Juliet Campbell, runs for the All Stars in the women's 200m, with Germany's European bronze medallist Gabi Rockmeier and Russian champion Yulia Tabakov for company.
Britain's star performers in Vienna were the resurgent men's 60m gold medallist Jason Gardener, who retained his European title after two seasons of injury, and veteran hurdler Colin Jackson, who at 35 years of age won the 60m hurdles title.
Both men will also be in action in Glasgow, with Gardener having a rematch with fellow Britain Mark Lewis Francis, the European silver medallist, who will run for the All Stars team at 60m; while over the barriers, Jackson will take on Russian 60m hurdles record holder, Yevgeniy Pechonkin, who took the bronze in Vienna.
Glasgow is one of Jackson's favourite venues, as it was in 1994 on the Kelvin Hall track that he equalled the then 60m hurdles world record of 7.36 seconds. This weekend is likely to mark Jackson's last indoor appearance in Glasgow, and memories will come flooding back of his entire 1994 indoor campaign. Only a few weeks later in Germany, Jackson lowered the record to the current world mark of 7.30 seconds, which no one has even brushed close to in the intervening eight years. Jackson also successfully won European indoor titles at both 60m flat and hurdles during that winter of 1994.
Of the other men's events this weekend in Glasgow, the highlight should be a clash in the men's 400m between European indoor silver medallist Jimisola Laursen of Sweden, and Britain's world indoor champion Daniel Caines, who opted for the 200m in Vienna.