Merlene meeting her manager Daniel. P. Zimmermann at her arrival to today's Press Conference at Grand Hotel Union in Ljubljana

Merlene and her coach Srdjan Djordjevic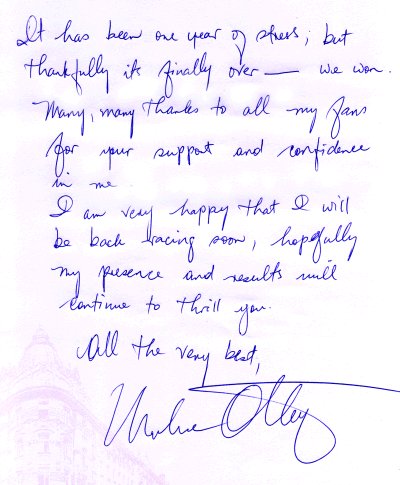 Merlene while writing the message you've just read
A link to the Real Player Video at the bottom

Copyright (c) 2000 - Edo Bogataj (Photo & Design)
For those of you who have bad monitors or sore eyes, here's what Merlene wrote today:
It has been one year of stress, but thankfully it's finally over - we won.
Many, many thanks to all my fans for your support and confidence in me.
I am very happy that I will be back racing soon, hopefully my presence and results will continue to thrill you.
Merlene Ottey
Ljubljana, July 5. 2000 - 5:00 PM