Sydney
22.10.2000


What is this guy carrying? Our fans' requisite - nearly as popular as boomerang!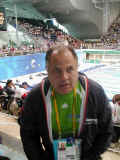 "Well done!", our swimmer's coach Bruno reports.
Our swimming champion Danijel Pavlinec had his first attempt today. In 400 m freestyle he performed very well and finished sixth in the final race and improved national record twice.
In the next few days more good news can be expected from our Dani as there several other, shorter disciplines ahead.
Let's hope his coach will send us a report on that soonest possible..
| | | | |
| --- | --- | --- | --- |
| | First 50 m - Dani doing it very well | | Second 50 m - keep going Dani! |
| | After 150 m - still in a good position... | | Turn at 250 m - Dani turning very well |
| | Besides the main pool there are many additional small swimming pools in Aquatic Center | | Final Dani's result - excellent 6. place! |
| | Bruno describing and explaining the race | | Fredi (our Paralympic atache Alfred Brežnik) is always with us to encourage our athletes |