Athletics is one of the most popular Paralympic sports. Athletics was included in the competition programme of the first Paralympic Games in 1960 in Rome. It involves the largest number of men and women athletes and the largest number of events.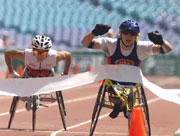 Participants in the Paralympic Games are men and women athletes with cerebral palsy, spinal chord injuries, amputations or other physical disabilities, blind athletes and athletes with vision impairment. The competition programme includes track and field events, throwing and jumping events, the marathon and pentathlon.
Athletes compete in a wheelchair or using prosthetic legs or arms (artificial limbs), while blind athletes compete with the help of a guide.
Athletes are classified in various classes, based on their type of disability:

| | |
| --- | --- |
| | Athletes with cerebral palsy are classified in classes 32 to 38. In classes 32 to 34, athletes compete in a wheelchair, and in classes 35 to 38 in an upright standing position. |
| | Athletes with spinal cord injuries or other physical disabilities, other than cerebral palsy, are classified according to their mobility profile, in classes 51 to 54 for track events and 51 to 58 for throwing events. In these classes athletes compete in a wheelchair. |
| | Athletes with an amputation of one or more limbs, as well as other physical disabilities (les autres) who compete in a standing position, are classified into classes 42 to 46. |
| | Athletes with vision impairment and blind athletes are classified in the three classes 11, 12 and 13. |
| | Athletes with dwarfism due to lack of cartilage formation ('achondroplasia') compete only in throwing events, in category 40. |
Athletics at the 2004 Paralympic Games
The Athletics competition during the ATHENS 2004 Paralympic Games will take place at the Olympic Stadium of the Athens Olympic Sports Complex (OCO). The competition programme will be completed within nine days, from 19 to 27 September 2004.