Bicycle is one of the most popular means of transportation nowadays. It is also one of the favourite recreational sports for people of all ages. At first, Cycling became a sport for blind athletes and athletes with vision impairment, who started competing with tandem bicycles (bicycles with two saddles).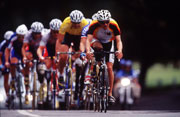 The Paralympic Games Cycling programme includes two disciplines: Road Cycling and Track Cycling. Road Cycling races take place on public highways, while the Track Cycling races take place on tracks, or in other words, a velodrome. Although the rules and regulations governing the sport are the same as those for the Olympic Cycling, in certain cases modifications to the bicycles are allowed in order to facilitate athletes with specific disabilities.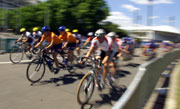 Athletes with partial or total vision impairment, celebral palsy, spinal cord injuries, amputees or any other permanent physical deficiency can participate in Cycling. The athletes are classified into categories based on their functional abilities together with the skills required for the sport. The athletes' bicycles are modified, whenever considered necessary, according to the athletes' needs.
Cycling at the 2004 Paralympic Games
Track Cycling events will be held in the Olympic Velodrome at the Athens Olympic Sports Complex (OCO), within five competition days (18-22 September 2004). Road Cycling events will be held in Vouliagmeni, within the span of three competition days, from 24-26 September 2004.