Speed and quick reactions constitute the two main characteristics athletes in Table Tennis have. Every game consists of five sets. The first athlete or team that scores 11 points wins the set.
Table Tennis at the Paralympic Games presents only minor differences compared to the corresponding game in the Olympic Games. Only a few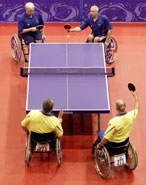 modifications have been made for athletes who use a wheelchair. Participants are athletes with cerebral palsy, spinal cord injuries and athletes with an amputation or other locomotor disabilities. The athletes compete in a wheelchair or standing and are classified in 10 classes based on their functional ability.
Table Tennis at the 2004 Paralympic Games
Table Tennis at the Paralympic Games in Athens will be held at the Galatsi Olympic Hall. The competition programme will be completed within nine days, from 18 to 27 September 2004, with a one-day intermission on September 22.