March, 03. 2002
Ceplak defeats Graf and smashes World Record – High Five for Feofanova
Sean Wallace-Jones for the IAAF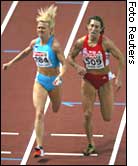 3 March 2002 – Vienna, Austria – It was time for the race that most of the Austrian population had been waiting for, but few in the packed Ferry Dusika Hallenstadion here in Vienna would have predicted the outcome. Austria's darling Stephanie Graf was lining up against 5 athletes in the final of the women's 800 metres, but this was really a two women race, with only Jolanda Ceplak from Slovenia able to challenge the Austrian powerhouse.
And that it just what Ceplak did – and more.
Going straight into the lead at the gun, Ceplak led Graf around the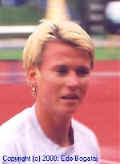 track until the two leaders came into the back straight, when Graf started to move out, gradually pushing past the Slovenian and leading into the final bend, but as the two cam into the home straight with Graf narrowly in the lead, the unexpected happened. Ceplak started to come back and powering towards the line edged ahead of Graf to beat the Austrian for the line and set a new world record of 1 minute 55.82 seconds, demolishing Christine Wachtel's (GDR) record of 1:56.40 set in this very stadium on 13 February 1988.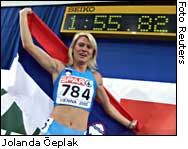 Graf had to settle for silver and a new national record for Austria of 1:55.85.
A delighted Ceplak said afterwards: "I gave everything I had, as I understood that I was getting close to the world record and that was my main goal. I was really shaking because the crowd was cheering for Graf.
"A fast race was convenient for both of us, so I went for it telling myself 'if I die, I die.' All the hard work I have done this winter finally paid off."
Graf was gracious in defeat: "It was a perfect race, I took the lead 100 metres before the finish, but Jolanda was physically better today.
"We made a big show for the fans, both under the world record. Now this is my third silver - the consequence is: I have to change my manager." (Both Ceplak and Graf are managed by Robert Wagner).
The Ceplak effect played over into the men's 800 metres, as the man the commentator had described as "Switzerland's Stephanie Graf" , Andre Bucher lived up to the nickname today, suffering a surprise defeat in the final metres at the hands of Polish runner Pawel Czapiewski.