Sitting Volleyball first introduced in 1956 and is one of the most important team sports for athletes with a disability. The differences between Paralympic and Olympic Volleyball are minimal. Specifically, in Sitting Volleyball the dimensions of the court are smaller, the 'filet' (net) is lower, and the athletes play sitting down.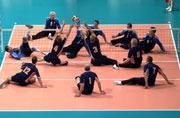 The sport requires determination, cooperation and good strategy from the participants. Athletes with locomotor disabilities (amputations or other locomotor disabilities) are eligible to participate. In Sitting Volleyball the men and women athletes are not classified into classes as in other sports. However, they must fulfil the conditions of a minimum degree of disability.
The games take place in an indoor court between two teams, in a playing area measuring 10 x 6 metres. Each team consists of six players and up to six substitutes.
Sitting Volleyball at the 2004 Paralympic Games
Sitting Volleyball at the Athens Paralympic Games will take place at the Helleniko Fencing Hall, at the Helliniko Olympic Complex. The competition programme will be completed over seven days, from 19 to 26 September 2004, with a resting day in 23 September 2004.